Welcome to The Fairy Glamother
Let us help you have a stunning look for any occasion in the convenience of your own home. We would also love to help you learn some tips & tricks, create a fun girls night, or even help you create a birthday party with memories that will last a lifetime.
Jennifer (Owner & Lead Hair and Makeup Artist)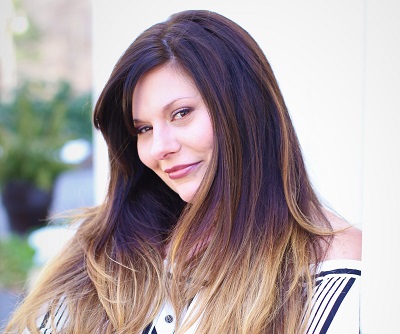 Hi and thank you for taking the time to stop by. I am a fully licensed cosmetologist and have been active in the industry for over 17 years. My experience includes NYC Fashion Week, to brand name commercials, and working on amazing brides, being sure their true beauty inside and out is enhanced to the fullest for their big day. My passion, since I was a little girl, has always been the beauty industry. I am very fortunate being able to work out of my home studio, allowing me to spend my down time with our handsome son. I have worked with wonderfully talented photographers over the years, consistently pushing the limits with creative, out-of-the box photo shoots.
I pride myself on making sure each and every client feels confident and comfortable while working with me and my team. My professionalism is seen throughout each step, starting with the initial call or email to the successful completion of the event or project. I truly am honored that the majority of my clients also have become friends.
I am based out of Fairfield County, CT, but travel wherever the event or project leads me. I have worked all over New England, and I am always up for a creative challenge. Please feel free to contact me with any questions you may have or with the details of your upcoming event or project.
What past clients say…
---
Jen, The Fairy Glamother, did the hair and makeup for my wedding. Being a differently abled bride I was concerned with the amount of sitting required for hair and makeup. She was amazing, knowledgeable, and flexible! She problem solved quickly and expertly when my venue threw her a curve ball. All of my girls LOVED their hair and makeup, along with my mother. All of our makeup stayed the whole night, was exactly as we asked, and looked amazing. Our hair was fabulous, and exactly what we were hoping for. Jen went above and beyond for me, when rain threatened to ruin pictures she saved my day. Without her, my wedding would not have been nearly as stress free or perfect looking. She is the absolute best out there and any bride would be lucky to have her by her side on their wedding day! I highly recommend The Fairy Glamother to all brides, going with anyone else is a mistake.

— Leigh Koger
Jen worked very hard to make my bride look her best. She took extra steps to insure her hair and makeup would stand up to the rain, for which we could get our "first looks" in. She even stayed after the first look photos just to make sure her hair was set for the rest of the night. She is an amazing person and stylist. My bride's hair and makeup looked flawless. Jen helped our day be a perfect one.

— From Randy Stone